A GMO-free Europe – Future opportunities and challenges
May 5, 2015 by Staff Reporter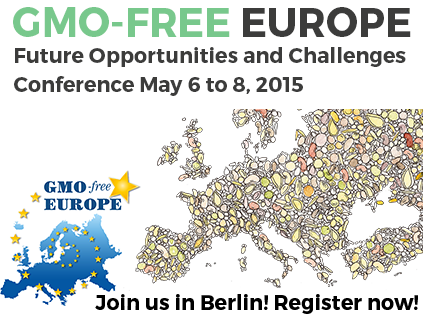 This week, for the first time, the three pillars of a GMO-free Europe – regional governments, businesses and NGOs with scientists – will come together in Berlin for a joint conference "GMO-Free Europe – Future Opportunities and Challenges".
From May 6 to 8 2015, participants from political circles, economists, scientists and civil society from all over Europe, as well as guests from America, Asia and Africa will discuss the chances of a future agriculture without genetically modified plants and animals.
Beyond GM will be there presenting a short talk that introduces our work to our colleagues from around the world and Director Pat Thomas will be one of the panellists for the session TTIP and what is at stake for European GMO rules? organised by Friends of the Earth Europe.
With the recent change in European legislation regarding GMOs. GMO-free regions in the EU are facing a range of short and long term challenges:
Europe needs a coherent protein strategy guaranteeing the supply of GMO-free feed, reducing soybean imports, fostering agro-biodiversity and reducing climate gas emissions
An environmentally responsible and healthy use of animal protein resources
Seed must be remain completely free of GMOs – "Low level presence" of GMOs in seed is unacceptable
Zero tolerance must also be applied to non-authorized GMOs in food
The so called "Opt out" revision of the present EU GMO legislation allowing for national bans on GMO cultivation and its national implementation must be followed closely, just as changes planned on the GMO authorization procedure.
Free trade agreements such as between the EU and Canada (CETA) and the EU and US (TTIP) must not become gateways for lowering the standards of consumer and environmental protection
New scientific and technical developments in biotechnology raise questions concerning the present and future definition of what constitutes a genetically modified organism
With these challenges also come a number of possibilities for progress. All these issues will be presented and discussed at what it tipped to be one of the most lively and important conferences on our food future in some time.
The conference will include joint plenary sessions as well as separate meetings and a broad range of workshops on the different aspects of GMO-free agriculture, production, trade, retail, and consumption.
More information and the programme can be found on the event's website.