Altered Genes, Twisted Truth – Media Resources
"Without doubt one of the most important books of the last 50 years" – Dame Jane Goodall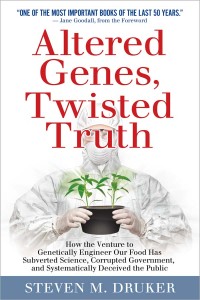 In the late 1990s American Attorney Steven Druker gained prominence for taking the US Food and Drug Administration (FDA) to court over negligent oversight of genetically modified foods. The court case, along with his extensive investigations over the last 15 years reveal that GM foods only achieved commercialisation because the FDA ignored its own experts' advice that they entailed higher risks than their conventional counterparts and then lied about these facts.
In an acclaimed new book, Altered Genes, Twisted Truth – which is being launched at a press conference in London on Wednesday, 4 March 2015 at 10:30 am – Steven Druker reveals how the US government and leading scientific institutions have systematically misrepresented the facts about GMOs and the scientific research that casts doubt on their safety.
This page provides essential resources to those attending:
Beyond GM is facilitating the press launch of the book in London on March 4. if you wish to attend or have any questions, or require an advance copy of the book please contact: Francesca Price or Pat Thomas.