America's GMO right-to-know labelling fight heats up
March 6, 2016 by Lauren McCauley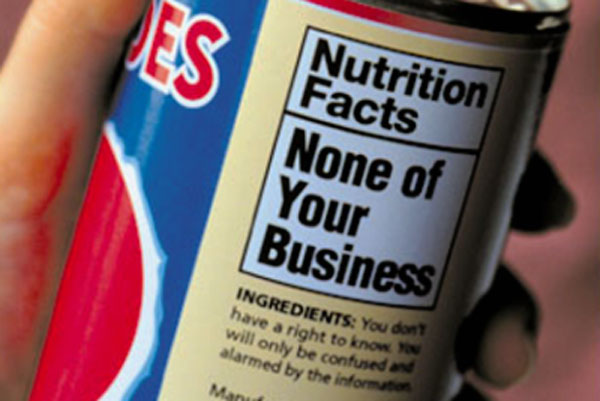 UPDATE: The vote for the DARK Act went to the US Senate on March 16, where it failed to get enough votes to pass. The vote was 48 in favour to 49 against. 60 votes for either side were needed for cloture (i.e. bringing the matter to a close) which means the issue is still 'live' for US consumers.  A motion was filed to revisit a new version of the Bill, after the Senate's spring recess, likely in early April. For background see below and also our article GMO labelling – the battle to keep corporations honest.
Defying the rights of Americans who overwhelmingly want to know more about what they eat, a Senate committee on Tuesday advanced legislation that will block states from requiring that foods made with genetically modified organisms (GMO) be labelled.
The so-called Denying Americans the Right to Know (DARK) Act (pdf) passed the Senate Agriculture Committee 14-6. It now moves to the upper chamber's floor, setting up a Congressional battle as Vermont prepares to become the first state to implement a mandatory GMO labeling law.
The federal bill pre-empts state laws by establishing a national voluntary labeling standard for foods made with GMOs, similar to the Safe and Accurate Food Labeling Act of 2015 thatpassed the House in July. The Senate bill has reportedly gone through significant negotiations to garner bipartisan support. But opponents, including Wenonah Hauter, executive director of watchdog Food & Water Watch, argue that "more compromise will not fix the problem at the bill's core."
"Blocking state laws that require GMO labelling will strip away the ability of states to protect the public's right to know what is in their food," Hauter said Tuesday. "Any version of this bill that would result in anything less than mandatory on-package labeling is unacceptable."
Indeed, more than 9 out of 10 of Americans surveyed have said they support mandatory GMO labeling. Despite this, lawmakers – with significant backing from the biotechnology industry – continue to push pro-GMO legislation.
In 2014, Vermont passed a new labeling standard that is due to take effect on July 1. As the first state to pass a law that does not include a "trigger clause" – which requires that other states pass similar legislation, such as in Connecticut and Maine – Vermont now emerges as the GMO battleground as Senate lawmakers consider this bill.
Presidential hopeful Sen. Bernie Sanders (I-Vt.) weighed in on the controversy Tuesday, tweeting:

And Democratic Sen. Patrick Leahy, also from Vermont, argued Tuesday that the bill would "move production methods into the shadows."
The bill's supporters frame the debate as an economic one, arguing that mandatory labeling laws would drive up the price of food, and that such restriction would be a "nightmare" for the food industry.
However, Scott Faber, senior vice president of government affairs with the Environmental Working Group, argues that this claim is "false."
"The truth is," Faber wrote Monday, "food companies change their labels all the time to highlight innovations or make new claims. Adding a few words to the back of the package as part of a routine label change will have no impact on the cost of making food, studies show."
What's more, major food corporations are forced to label GMOs in 60 other countries that have passed such requirements.
"Those labels don't cause confusion, and they don't add to the cost of food," said Katherine Paul, associate director of the Organic Consumers Association. "The food corporations providing labels in those 60 countries could provide that same information to consumers here in the US – if we didn't allow them to buy our politicians."
"The only 'nightmare,'" Paul continued, "is that consumers in the US are denied this fundamental basic right to know purely because Monsanto and Big Food have corrupted our political system."
What happens next? The DARK act bill could go the floor of the Senate as early as the week commencing March 7. Campaigners in the US believe that the next two weeks or so should be critical to this fight.
Want to know more? Decisions around GMO labelling in the US do have an influence that spreads beyond America and could potentially set a dangerous precedent for other governments to follow. See our article GMO labelling – the battle to keep corporations honest
This news article, which first appeared on Common Dreams, is licensed under a Creative Commons Attribution-Share Alike 3.0 License.