Beyond GM hits the road with Neil Young
June 29, 2015 by Staff Reporter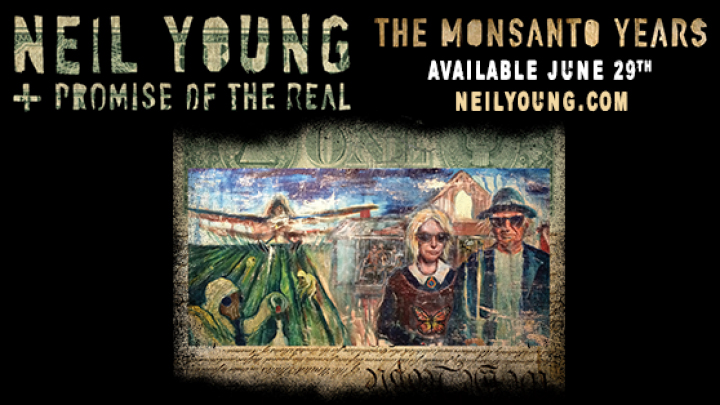 Beyond GM will be joining our colleagues at GMO Free USA on tour with Neil Young + Promise of the Real as they criss-cross the USA to promote their new studio album, The Monsanto Years.
The album has a strong anti-corporate theme running through it and features songs exploring global hunger, pesticides, GMOs, seeds and our Earth.
According to Neil Young: "The Monsanto Years are here and we are living them. Monsanto is the poster-child for what is wrong with corporate controlled government in our world. Our upcoming record, The Monsanto Years, encompasses several associated subjects that millions of people worldwide are concerned about and active in. Earth is not ours. We are of the Earth. That's how I feel. When we plunder our own home we hurt our children and their children after them. I feel responsible."
It takes a village
Neil will be taking an activist 'village 'with him, made up of a number of different NGOs whose focus ranges from environmental and human issues, from climate change and social justice, to renewable energy and ocean conservation. The NGOs will be housed in several tents which concertgoers can explore, and where they can talk to knowledgeable people about the issues that they care about.
The village will be active an hour before and after each show outside of each venue. The issue areas and organizations representing each issue are:
GMOs: GMO Free USA, Institute for Responsible Technology
Earth Ecology: Center for Biological Diversity, Sea Shepherd
Energy & Climate: 350.org, Rising Tide North America
Freedom & Justice: Idle No More, Move to Amend
Future of Farming: Greenhorns, National Sustainable Agricultural Coalition (with California Grange)
News You Can Trust: Center for Food Safety, Earth Island Journal, Mother Jones Magazine, Permaculture Activist, The Nation, Yes Magazine
During the tour GMO Free USA will be educating concertgoers about the unhealthy control of our agricultural system by amoral corporations, what people can do to help achieve a more equitable food system, and raising awareness about the need for mandatory GMO labelling, food transparency and food justice for all.
GMO Free USA, along with Label GMOs, helped us gather support from US NGOs and celebrities for our Letter from America. Environmentalist Charris Ford, who helped organise Neil's tour, was also very generous in his support of the initiative.
Beyond GM director Pat Thomas, who is also on the Board of Advisors for GMO Free USA, and will be in the US with them, comments:
"We are so pleased to be able to play a small part in this celebration. Music has a way of cutting through all the hype and BS and speaking directly to us and the problems and challenges that we face. It's so important that public figures like Neil speak out about the corporate takeover of our lives. I'm looking forward to being on the road with friends and colleagues and feeling renewed by the presence of so many dedicated campaigners. I'm also looking forward to talking to people in the US about how important it is for us all to work together to stop the global spread of GMOs. We hope, quite apart from enjoying a great gig, that people will come and say hi to GMO Free USA – and Beyond GM – learn a bit more about the problems of GMOs and sign on to the Letter from America."
The Monsanto Years, was released 29th July on Reprise Records.
The Rebel Content Tour will cross the USA and Canada. The dates are
Sun, July 5 – Milwaukee Summer Fest, Milwaukee
Wed, July 8 – Red Rocks, Denver, CO
Thurs, July 9 – Red Rocks, Denver, CO
Sat, July 11- Pinnacle Bank Arena, Lincoln, NE
Mon, July 13 – Riverbend Music Center, Cincinnati, OH
Tues, July 14 – DTE Energy Music Theatre, Clarkston, MI
Thurs, July 16 – Susquehanna Bank Center, Camden, NJ
Fri, July 17 – Bethel Woods Center for the Arts, Bethel, NY
Sun, July 19 – Champlain Valley Expo, Essex Junction, VT
Tues, July 21 – Jones Beach, Wantagh, NY
Wed, July 22 – Xfinity Center, Great Woods, MA
Fri, July 24 – Wayhome Festival, Oro-Medonte, Canada
Just to get you in the mood here's a couple more videos…
Neil Young + Promise Of The Real – The Monsanto Years: The Message
Neil Young + Promise Of The Real – The Monsanto Years: The Mission
Wolf Moon (Official Video)