EU one step closer to relicensing glyphosate
November 13, 2015 by Pat Thomas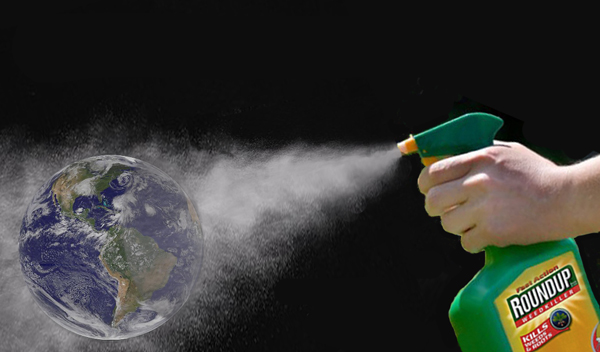 The European Food Safety Authority (EFSA) published its conclusion on the safety of glyphosate this week.
For anyone hoping for a cleaner food system and some slowing down of the push for GMOs in the EU the report, which effectively removes any barriers to the relicensing of glyphosate in the EU, makes grim, if somewhat predictable reading.
The EFSA report concludes that "Glyphosate is unlikely to pose a carcinogenic hazard to humans and the evidence does not support classification with regard to its carcinogenic potential."
This is a very different finding from that of the International Agency for Research on Cancer (IARC), which earlier this year declared glyphosate to be a 'probable human carcinogen'.
The controversial decision was based on a variety of data including six unpublished, industry-funded studies submitted by the Glyphosate Task Force, an alliance of pesticide manufacturers and others such as Monsanto, Syngenta, Dow and Bayer Chemicals. These companies combined their considerable resources and lobbying power specifically to ensure that glyphosate's licence is renewed in the EU.
The authority has also recklessly recommended an increased acceptable daily intake (ADI) of 0.5 mg per kg of body weight per day (up from 0.3 mg/kg bodyweight/day) for consumers. For occupational exposures the acceptable operator exposure level (AOEL) was set at 0.1 mg/kg body weight per day.
The problem of formulations
In defending its decision, in a plain-English summary, EFSA said the IARC report reached a different conclusion because it "looked at both glyphosate – an active substance – and glyphosate-based formulations, grouping all formulations regardless of their composition. The EU assessment, on the other hand, considered only glyphosate" as a single isolated ingredient."
It goes on to say that it is "likely" that the "genotoxic effects observed in some glyphosate-based formulations are related to the other constituents or 'co-formulants'" and that "certain glyphosate-based formulations display higher toxicity than that of the active ingredient, presumably because of the presence of co-formulants".
This admission is both misleading and revealing.
Misleading because IARC, in fact, studied and referenced in its report both glyphosate-based formulations and glyphosate in isolation, which makes it a much more comprehensive and thoughtful report than that produced by EFSA.
Revealing because for many years the regulatory authorities have denied that glyphosate formulations (such as Roundup) can be more toxic than glyphosate on its own. And yet a large body of evidence suggests that this is the case.
The problem of toxic formulations is worrying because in the real world few of us come into contact with glyphosate in its pure form. Instead we come into contact with it in our gardens and on our farms (and through this use in our food) as part of a commercial formulation.
Evidence from the US shows that GMO Roundup Ready crops contain many times more glyphosate, and its toxic breakdown product AMPA, than normal crops. That is a real world risk to anyone who eats.
Nevertheless, EFSA does not consider that it has a responsibility to study formulations, a task which it says should be (but never has been) undertaken at individual Member State level.
Whether deliberately or not, the admission does mark a change in the direction of thinking for the Authority.
While there have been studies on glyphosate on its own and glyphosate in formulations, the necessary side by side comparisons have not been done, which would allow us to say categorically if and how much more toxic one might be than the other.
Indeed industry groups such as the Glyphosate Task Force resist the call for such studies.
What's next?
Glyphosate's current license runs out on 30 June 2016. The EFSA decision pushes glyphosate closer to renewal.
Based on this final EFSA review, the European Commission will prepare a Review Report followed by a Regulation with a proposal. An EU technical committee is expected to examine the Commission's recommendation in early 2016. The final recommendation will then be put to a vote by the representatives from the 28 Member States at the Standing Committee for Food Chain and Animal Health soon after.
Glyphosate toxicity will also be investigated by the European Chemicals Agency (ECHA). However, ECHA is not expected to release its report until 2017.
Some background
An EU decision on the relicensing of glyphosate – the basis of Monsanto's Round Up herbicide which underpins most GMO cropping – has been pending for most of 2015.
Initially scheduled to be concluded earlier this year, the timeline was extended with the publication of the IARC assessment of glyphosate which found that this widely used herbicide was a probable human carcinogen.
With the publication of that report the European Commission requested that EFSA consider IARC findings as part of its ongoing peer review of glyphosate.
Before a pesticide can be granted a renewed license new evidence of its safety and efficacy needs be reviewed. To facilitate this process a Member State is appointed to produce a summary report for EFSA and other agencies to consider.
The German Federal Institute for Risk Assessment (BfR), was the lead body in the EU's glyphosate assessment. The final version of the BfR report in April 2015 concluded that glyphosate was not carcinogenic or mutagenic, and that it was not toxic to fertility, reproduction, or embryonic/foetal development. But concerns were raised early in the process that the BfR had ignored important evidence such as
Oxidative stress The BfR review also ignored the influence of oxidative stress to cells caused by glyphosate exposure – even at levels considered 'safe'. According to the Pesticide Action Network Germany, there are already several scientific publications a link between glyphosate, oxidative stress and cancer.
Low dose effects In addition, the BfR ignored the scientifically indisputable fact that low doses of some substances, especially endocrine disruptors like glyphosate, have a more toxic effect than higher doses.
Formulations The BfR authors failed to mention the potentially higher toxicity of formulations in their assessment.
Body burden in particular the discovery of glyphosate and its more toxic breakdown product AMPA in the urine of people in Europe and the US.
After the IARC report was published BfR inserted an addendum to its own assessment acknowledging the positive findings of carcinogenicity in several animal studies. It also admitted that it initially relied on reports submitted by the glyphosate producers, instead of carrying out its own evaluation of the data. It did not, however, change its conclusion.
Data gaps
The current pesticide review system relies on studies which are considered to be directly relevant to humans and where causation is clear. In short that is defined as controlled rat feeding studies that are both long-term and use realistic doses that reflect real-world exposure.
Amazingly there have only been two controlled lab studies on glyphosate and glyphosate-based herbicides that tested these realistic doses:
One is an in vitro study by Thai researchers, which found that glyphosate alone stimulated the growth of breast cancer cells at minute concentrations as low as 10(-12) M or 169 ppq (parts per quadrillion)."
Before glyphosate can be given a clean bill of health is critical that more studies of this kind are undertaken.
For a summary on the potential human health effects of glyphosate see this article on our GM Free Me site: Glyphosate – what's the problem?
For an useful research paper on multiple low dose effects of glyphosate see here.