Glyphosate in the EU – what's the plan?
November 10, 2017 by Pat Thomas & Lawrence Woodward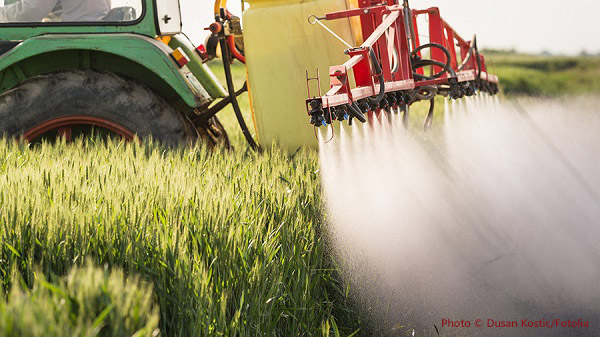 The EU has failed – once again – to agree on how to proceed with the relicensing of glyphosate, the active ingredient which underpins Roundup, the world's most widely used herbicide.
Yesterday representatives of Member States in the European Council voted on a proposal, put forward by the European Commission, to relicense glyphosate for a further 5 years.
The current license runs out at the end of this year and the proposal was essentially a compromise, put forward when Member States could not make a definitive choice on whether to renew the controversial chemical or not.
A five year period, the European Commission might have reasoned, would ensure some kind of continuity for farmers who rely on glyphosate and allow time for a re-assessment of objections from both the public and scientists.
The result of yesterday's vote – a hopelessly split European Council and no clear mandate for action – was not unexpected.
In six previous votes over the last two years the EC has failed to garner sufficient support from European governments for various proposals about the renewal of glyphosate's license.
With little time left before the decision is simply taken out of everyone's hands, the Commission is now scrambling to find a solution.
How did we get here?
The original license for glyphosate expired in June 2012. Since then, the European Commission has granted three temporary extensions.
The first was in 2011, then again in 2015. Then in June 2016 the herbicide was given an 18 month extension in order to allow the European Chemicals Agency (ECHA) time to finish conducting an investigation into the wider human health effects of glyphosate.
This investigation was launched in response to the International Agency for Research on Cancer report which, in March 2015, classified glyphosate as a "probable human carcinogen".
The final version of that ECHA report was submitted to the EC in June 2017. Perhaps not surprisingly, it concluded that there is no evidence to link glyphosate to cancer in humans, and that the herbicide should not be classified as a substance that causes genetic damage (mutagen) or disrupts reproduction.
It has since been revealed that whole sections of the ECHA's final report were copied and pasted from an application submitted by Monsanto on behalf of the lobby group that calls itself the Glyphosate Task Force.
The revelation has cast serious doubt on the impartiality of the advice put forward by the ECHA. The impartiality and methodology of the European Food Safety Authority (EFSA), which, in part, based its official opinion on the safety of glyphosate on the report's findings, has also been questioned.
But doesn't everyone want glyphosate banned?
Not really. The Commission makes no secret that it favours an unrestricted EU licence for glyphosate for a period of 10-15 years.
Other branches of the European government disagree.
In October, the European Parliament voted for immediate restrictions on the use of glyphosate – including for non-professional uses and pre-harvest spraying – and a complete phasing out within 5 years.
There have, likewise, been a flurry of statements from the governments of France, Belgium, Luxembourg, Slovenia and Malta suggesting they favour a ban within their own borders within the next few years – but none have taken any concrete action in this direction.
The breakdown of how Member States voted shows just how entrenched the situation is:
14 Member States (representing 36.95% of EU population) CZ, DK, EE, IE, ES, LV, LT, HU, NL, SV, SK, FI, SE, UK voted in favour.
9 Member States (32.26% of EU population) BE, EL, FR, HR, IT, CY, LU, MT, AT opposed relicensing
5 Member States (30.79% of EU population) BG, DE, PL, PT, RO abstained.
The margins, as anyone can see, are very narrow and Member States that favour a renewal of glyphosate's license are in a majority – just not a the qualified majority necessary to grant a new license.
But everyone else want's glyphosate banned, right?
Not necessarily. There is little doubt that glyphosate's days are numbered in the EU, but just what that number will be remains to be seen.
In the meantime there are growing divides between citizens and farmers as well.
A large numbers of EU citizens want the herbicide banned – a recent European Citizens Initiative petition gathered more than 1.3 million signatures.
But the dominant farming organisations, as well as many rank and file farmers are aghast at the prospect. Worse, their disillusionment with EU institutions and opposition to NGO activists is also hardening.
Why does this keep happening?
Some people believe that it keeps happening because our political system, and the scientists and academics that feed advice into the legislative process, are in the pay of powerful lobbyists.
Many campaigners love this narrative – and to some extent it is true. But it's not the whole answer.
A hugely important factor is that there is no plan in place for life after glyphosate.
Despite the often blithe assurances from campaigners that EU's farmers can do without it, a ban without a properly thought-through transitional programme would certainly cause massive disruption to many farms.
It's true that organic farmers do not use glyphosate but claims that organic and agro-ecological methods can quickly and easily replace glyphosate and other agro-chemicals are simply not credible.
Organic farms, for example, have introduced significant system and management changes on their farms in order to avoid glyphosate and other such herbicides. These changes are not easily or swiftly brought about on conventional farms, and farmers would need significant and practical support to give them the confidence that it can be done in their own specific cases.
Another consideration is that many climate aware farmers see glyphosate as an important tool in reducing agriculture's greenhouse gas emissions as its use allows them to reduce or even end cultivation practices such as tilling to remove weeds, which create large emissions.
EU legislators will also be aware of the likely legal fallout of imposing any restrictions on use let alone at ban at the EU level.
Given that the EU's major regulatory bodies have given glyphosate a clean bill of health (albeit with some questionable practices) it is highly likely that Monsanto and other companies will take legal action challenge any restriction or ban. This could drag on for a very long time – during which time glyphosate will remain on the market.
What happens next?
The clock is ticking. Glyphosate's licence for use in the EU expires on 15th December. The next step is that the EC will take the same proposal to a vote in an appeals committee later this month. That too is expected to fail, but even if it does, the Commission has the power to adopt its own proposal, without the backing of European government, so glyphosate's license could still be renewed.
The most likely outcome is that another temporary extension (of at least 18 months) will be granted during which time the Commission hopes that either something will turn up to support its position or Germany can be persuaded to move from abstaining to voting in favour of relicensing.
This might be possible if the Commission was willing to accept restrictions on glyphosates use (as the Parliament suggests) and a phasing out transition period.
Why should we care?
Too many campaigning organisations are too quick to treat these legislative failures as victories. They are not.
But contained within the frustrating story glyphosate in Europe is a cautionary tale – and a metaphor for how badly off course we are now in terms of how we produce food and where we need to go next.
We should care because better farming is integral to a better world and we urgently need a better world. We have now moved so far away from the agroecological ideal that it will take decades to turn things around. In the meantime our land and our food will continue to be doused in a range of pesticides which cost us dearly in terms of harm to the environment and health – and therefore cost us dearly in monetary terms, for instance for clean of up land and water and higher healthcare costs.
We should care because citizens views to simply not represented in the halls of power and have almost no influence over decision making. The ECI, envisioned as a tool for citizen engagement and influence in EU policy, has largely turned into an email harvesting exercise for NGOs. Of the numerous ECIs initiated over the last seven years most have either been withdrawn or failed to gain the million plus signatures necessary. Of the four that have succeeded, none have changed the course of European policy or legislation. Thus citizens need to continue to care enough to engage – and support those who are willing to engage on their behalf.
We should care because no one can say what will replace glyphosate. From petrol to plastics to flame retardants, to cosmetic preservatives to cigarettes, history provides multiple examples of toxic substances that have been banned only to be replaced by substances that were just as toxic – if not more so. We all have a stake in ensuring that any alternative to glyphosate moves us forward, not backward.
What should we do now?
At Beyond GM we have followed the unravelling of the glyphosate story closely. We have agonised over it, analysed it and written about it.
The bottom line is there is enough evidence that glyphosate – together with the other ingredients which make up Roundup and other glyphosate based herbicides – poses a significant health risk which should be fully and independently evaluated. Precaution demands that we significantly restrict the use of these herbicides to limit this potential risk.
The glyphosate saga shows that our regulatory system and its interface with the political process and the concerns of civil society is not fit for purpose. It has been co-opted by industry interests, is not transparent and does not encompass the Precautionary Principle, which leaves us all open to health and environmental damage.
Unless we fix this we are destined to make the same mistakes over and over again which, with the advent of more pernicious and pervasive technologies such as synthetic biology and gene editing, will leave us far more vulnerable to harm.