Have your say on how to reform food and farming after Brexit
May 3, 2018 by Lawrence Woodward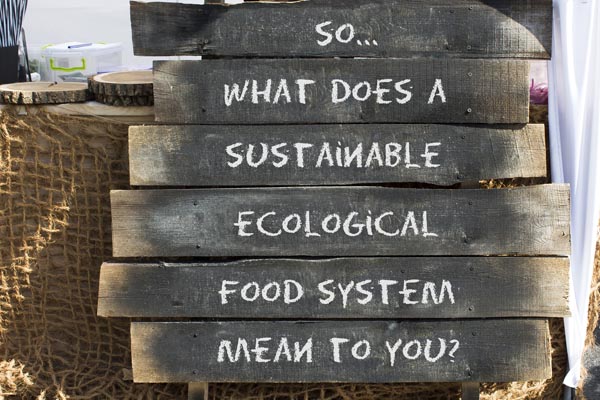 Do you want farming and food in the UK to be beyond GM, beyond pesticides, beyond the intensive and the industrial? Would you like it to be healthy, fair, ecological and truly sustainable?
If so, you now have the chance to have your say by responding to the government's consultation on the future of food, farming and the environment – but you only have until Tuesday 8th May to do it.
Leaving the EU means walking away from its Common Agriculture Policy and its overarching food safety, health and environmental regulations and policies. So this complex and comprehensive structure and way of life has to be replaced.
Environment Minister, Michael Gove – his department Defra (the Department of Environment, Farming and Rural Affairs) is running the consultation – claims this is a "once-in-a-generation opportunity to reform agriculture".
Whether that proves to be the case remains to be seen, but certainly this is a rare chance to pitch radical alternative ideas to a notoriously deaf, dumb and blind department of government.
Harmony and dissonance
Gove is bullish; "Now we are leaving the EU we can design a more rational, and sensitive agriculture policy which promotes environmental enhancement, supports profitable food production and contributes to a healthier society".
Pressing all the buzzword buttons he has called the consultation document, Health and Harmony: The future for food, farming and the environment in a Green Brexit.
It has a poetic ring; and perhaps mesmerised by the silver-tongued Gove's impressive performance up and down the country, where he has unerringly struck the appropriate cords and hidden the off notes with every audience (or just because they are flush with the excitement that government is actually asking for some views from citizens), many people have praised and reacted positively to the consultation document.
Others have wondered what a "Green Brexit" is – or where it is in any known policies. Many want to know what and where "health" is, because, although it's in the title, it's not actually in the document. Likewise, "harmony" doesn't seem in tune with the fiercely stated desire of all recent governments – Tory, Coalition and Labour – to slash agriculture funding, a policy which this government has not renounced or modified.
It is dissonance like this that generates scepticism. Another notable example is the treatment of food. In the document's title, and in a number of Gove's speeches, food and farming are conflated, but in the document itself and the proposals therein, food and much needed changes to the food system are ignored, as are food-related health issues.
Radical – with radical omissions
However, if some of the consultation document's key proposals were to be supported by real commitment from the government, and applied with sensitivity and intelligence, they would lead to significant and welcome change in our farming and land management.
The replacement of the system of making direct subsidy payments to farmers by payments for the delivery of public goods, if it were to be properly funded and built on ecologically and socially appropriate approaches in land management schemes, could transform our farmed and non-farmed environment. It could also fundamentally change (for better or worse) the socio-economic drivers of farming and rural communities with fallout which can only currently be guessed at.
One cannot argue with the public goods listed in the document as important to support – soil health, water and air quality, biodiversity, landscape and natural environment and climate change mitigation. But there are some significant omissions, most notably health, food quality, food security, organic and agroecological farming. Others, such as GM, pesticide regulation and local production and supply chains are also absent, which is concerning.
Similarly the proposals highlight the need for technological innovation and productivity; but seem only to focus on so called "high tech" and a narrow perspective of productivity which ignores ecological technology and innovation.
In the same way, it refers to the "polluter pays" principle but ignores the "precautionary principle".
It is necessary to point out that unless Brexit results in significant changes in the disposition of devolved powers (as the government has been angling for on a "temporary basis") Scotland, Wales and Northern Ireland are free to take a different view on all of this – a fact the document ignores.
Beyond scepticism
Michael Gove writes in the document's foreword; "The proposals in this paper set out a range of possible paths to a brighter future for farming. They are the beginning of a conversation, not a conclusion and we want everyone who cares about the food we eat and the environment around us to contribute."
We should, for the moment at least, set scepticism aside and take him at his word. In that spirit we will be taking part and responding to the consultation and we urge you to do so as well. as well
Our view is that the document is ill considered in many areas but the main ones we will be covering in our submission include:
The inclusion of health as a public good, with measures to support and make available to people, at an affordable price fresh, ecologically produced food – especially UK-grown fruit vegetables and arable crops, and ethically, environmentally sound meat.
The maintenance of robust inspections and regulations governing food health and safety and the creation of equitable supply chains.
The growth of, and a major role for, organic and other agroecological farming systems in UK farming and land management.
More positive animal welfare through management and system change rather than more drugs and genetic engineering.
The prohibition of genetically engineered crops and ingredients in UK farming and food.
Robust evaluation and labelling of any genetically engineered technology in farming and food in the UK.
Good working conditions and income for all working in food and farming.
In some cases it is not easy to spot how some of these issues can be covered within the consultation document framework; but we think that with a little bit of thought they can be.
The entire package of documentation can be accessed online, as can the online consultation tool. It takes about 30 minutes to complete it.
It is also possible to respond by email or in writing; and if you don't want to fill in the whole thing you can send an email focussing on the particular topic or area you are most interested in. There is a good example of how to do this on the Sustain website.
Our colleagues at Sustain and GMFreeze have also put together some useful resources that you might like to consider in making a response.
Please respond before 23.45 on the 8th of May.
This may be a flawed document with many ill-considered proposals and it may turn out to be little more than fine words and aspirations hiding a low-cost version of global and corporate business as usual. On the other hand here we have a chance to try to make some of the fine words and aspirations stick.