Supermarkets: it's time to label all GM-fed animal products
November 20, 2015 by Staff Reporter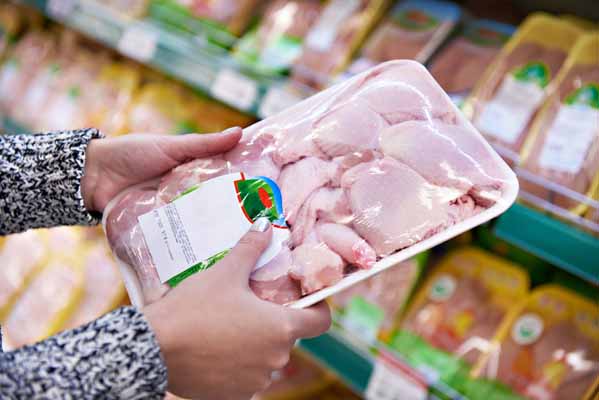 Nearly all the meat, eggs and dairy we eat in the UK is fed on GM- feed.
Now the Bristol arm of the campaigning group Mums Say No to GMOs, has launched a UK-wide petition to say this needs to change.
The petition on change.org demands that UK supermarkets reconsider selling these products, but in the meantime we says that supermarkets should label GM-fed animal products so consumers can make informed choices.
While UK law required that food products which are made with GM ingredients should be labelled as such, there is currently no such requirement for animal products where the animals were fed GMOs. These types of products are the most common way in which UK consumers come into contact with GM produce.
This is worrying say the Mums because even the UK Food Standards Agency now acknowledges that the genetic material from GM animal feed does survive to pass through and from the gut -something that, just a few years ago, researchers said could not happen.
"We have written this letter to UK supermarkets asking them to label GM-fed animal produce and also to source GM-free feed. Since a 2010 survey showed clearly that the majority of people would prefer to avoid GM-fed animal produce and that 89 per cent would like to see labelling, we consider it to be remiss of supermarkets not to be doing so already," says Freya Meredith.
To find out more about UK supermarket policies on GMO-fed animal products, see the article on our GM Free Me campaign site: GMOs – how does your supermarket stack up?
Hazardous to people and animals
"There are clear signs that GMOs may be hazardous to the health of humans and animals, and we believe that every paying consumer should have the right to choose to avoid them if they wish to. We hope that many thousands of people will sign this letter and show supermarkets that they care about this issue," notes her colleague, nutritionist Sally Beare.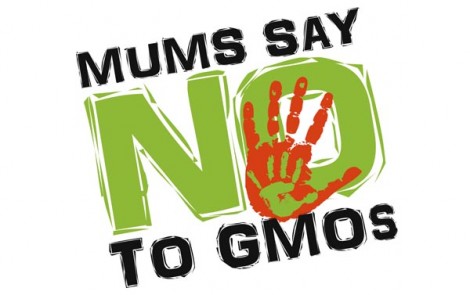 The text of the petition is below (references available on the petition site). We urge all our followers to sign the petition and share it via social media and email so that everyone has a chance to speak out.
Mums Say no to GMOs was set up with the help of Beyond GM, which continues to support and promote its efforts. Pat Thomas, Beyond GM director and honorary mum, says:
"As long as we sell GMO foods in any form, and feed GM feed to our animals, the UK can never claim to be 'GM free'. Retailers must use their power to change the food system for good. We are so pleased to see the Mums getting behind this important initiative and using mum-power to drive it forward. Support for the petition has taken off really quickly. Personally I'd like to see 1 million people sign the petition – not beyond the bounds of possibility given that two-thirds or more of the UK population remains completely opposed to GMOs."
A delegation of the Mums will present the full petition to CEOs of all UK supermarkets in due course.
The text of the petition is below (references available on the petition site):
What the petition says
Dear Tesco, Sainsbury's, Aldi, Lidl, Morrisons, the Co-Op, Marks and Spencer, Waitrose and all other UK supermarkets,
We are concerned that you are no longer committed to ensuring that the meat and dairy products you sell have come from animals fed on non-GMO feed.  We urge you to reconsider selling these products, but in the meantime we request that you label GM-fed animal produce as such.  This goes for meat, dairy, fish and eggs. As supermarket customers we believe that we should have the choice about what we buy.
We also wish to call your attention to some important points in the hope and expectation that it will lead you to reconsider your policies on this critical and increasingly high-profile consumer issue.
GM material has been detected in meat and dairy products:
Several scientific studies have shown that when livestock is given GM feed, GM material makes its way into the meat and dairy products produced from the animals (1-4).
As a result of these findings, in 2012 the UK Food Standards Agency (FSA), having previously denied that GM material could make its way into the produce we consume, was forced to concede: "It is… possible that DNA fragments derived from GM plant materials may occasionally be detected in animal tissues, in the same way that DNA fragments derived from non-GM plant materials can be detected in these same tissues."(5)
GM feed has been found to be toxic to animals
Some studies have revealed toxic effects in animals fed a GM diet and people may, through lack of informed choice, find themselves eating the products of animals in less than optimum health (6). This could have implications for the health of the livestock animals in your supply chain as well as that of the human consumers of their products.
Consumers do not want GMOs in their food
A Consumer Attitude Survey commissioned by Friends of the Earth and GM Freeze and carried out by GfK NOP in September 2010 concludes that of those surveyed:
72% would pay extra for non-GMO food
89% want meat from animals fed on GM feed to be labelled
66% would prefer to buy meat from animals fed a non-GMO diet (6)
Non-GM feed is available
Following close consultation with Brazilian suppliers, German supermarkets have forced the German Poultry Association (ZDG) to return to using GMO-Free feed. The largest German poultry producer, Wiesenhof, announced in early December 2014 that it would meet the German supermarkets' demands for GMO-Free Poultry products (8).  Several German supermarkets including REWE, EDEKA, ALDI and LIDL stated that consumer demand and the fact that there is enough Brazilian GMO-free feed in the system to supply Europe's needs led to their decision.
The rationale behind the decision of UK supermarkets including Tesco, Sainsburys, Waitrose, Lidl, Aldi and Morrisons to allow GM feed into its animal supply chain has been shown by the German supermarkets to be no longer relevant due to the following facts:
There is enough Brazilian GMO-free feed to meet demand, and this supply is increasing (9). In addition, soya production in China and India is 100% non-GM (10).
The current rationale for selling the products of GM-fed animals appears increasingly unconvincing to consumers. We therefore urge all UK supermarkets to reverse their decision to remove the non-GM requirement for animal feed in its supply chain and ensure that no animals in its supply chain are given feed containing GMOs.