UK and EU supermarkets must support GMO regulation
October 11, 2022 by Staff Writer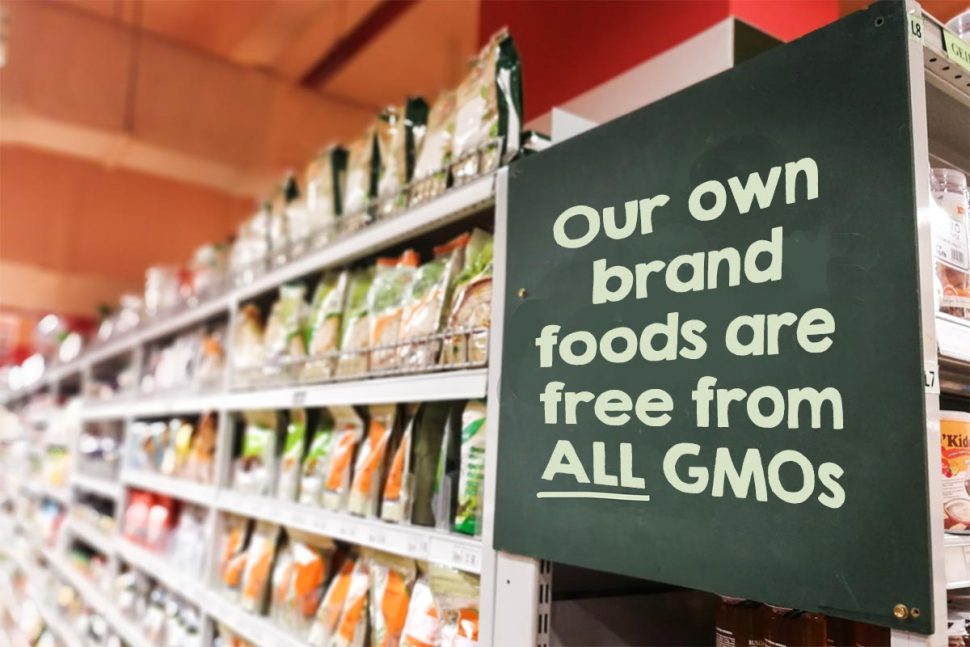 A coalition of 64 leaders from food, farming, religion, business, philanthropy and academia in the UK and in Europe have written to supermarkets with businesses in both the UK and EU, calling on them to support strong regulation of gene edited products and to protect consumer choice.
The letter comes as the UK presses ahead with plans for the near total deregulation of genetically engineered crops and foods and eventually livestock in England, including the removal of traceability and monitoring requirements and environmental assessments. Government says it wants to see the bill signed into law before the end of the year.
In Europe, the European Commission is expected to publish its proposals for changes to GM regulations in the spring of 2023.
No country in the world is following the UK's extreme deregulatory path which quietly includes both new style 'gene edited' organisms as well as older style GMOs. The deregulation plans have caused havoc in the UK's devolved nations – and by extension their supermarkets – since Scotland and Wales have signalled their intention not to sell English GMOs, while Northern Ireland, which follows EU regulations, cannot legally sell them.
It is likely, for instance, that even if the EU were to liberalise some regulations around GMOs, it will maintain a more precautionary approach. The EU has a strong non-GMO marketplace and many retailers are already actively advocating for strong regulation. Any new regulations will have to take into account the diversity of opinions on GMOs across Member States as well as provisions to ensure that this marketplace can be protected and continue to thrive and grow in line with, for example, EU ambitions to see 25% of agricultural land under organic farming by 2030.
A misalignment between UK and EU regulations is challenging for business and trade, particularly for those retailers with businesses in both places, who are likely to be relying on the same supply chains for all their own brand products.
In addition, citizens in both Europe and the UK continue to express a preference for non-GM foods and for GMOs to be regulated, labelled and traceable from farm to fork.
The coalition argues that retailers occupy an important space in terms of advocating for policies that meet their customers' needs and support sustainable business goals.
It asks for these international supermarket chains to:
Join the existing coalition of European retailers advocating for the continued regulation and labelling of all GM food under existing GMO regulations;
Refrain from giving any explicit or tacit support for government plans to remove labelling and traceability and therefore hide GMOs in the food supply chain;
Re-affirm and update existing GM policies in relation to own brands so that they explicitly prohibit gene edited products, in light of consumer attitudes.
The joint letter which was organised by Beyond GM, Slow Food in the UK and Slow Food Europe follows a widely publicised initiative in 2021 which targeted UK retailers only.
Marta Messa, Secretary General of Slow Food International, says: "It is essential that British and Europeans understand what is at stake: not clearly labelling new GMOs would completely undermine the transparency of our food systems as well as citizens' ability to choose GM-free food."
Shane Holland, Executive Chairman of Slow Food in the UK, adds: "The deregulation of GMO is a disaster – it creates a two-tier food system within the UK, with deeply complex issues which affects trade with England and Northern Ireland and throughout Europe. Any proposed deregulation must be accompanied by mandatory and prominent labelling so that consumers and businesses alike can trust the food on our shelves."
According to Pat Thomas, Director of Beyond GM: "The stakes are getting higher as proposed changes in the way we regulate GMOs make rapid progress in the UK and in the EU. These changes are being driven by the biotech industry, which has been allowed to redefine and distort the very purpose of regulation as a vehicle for market creation rather than a way of protecting people, businesses and the planet. Developers and GMO zealots in government want a free for all and it is up to those in positions of relative power, such as supermarkets and food businesses, to step up to protect their businesses and their customers from irresponsible legislative changes."
Read the open letter here.