Waitrose switch to non-GM soya is good news, but…
November 2, 2016 by Staff Reporter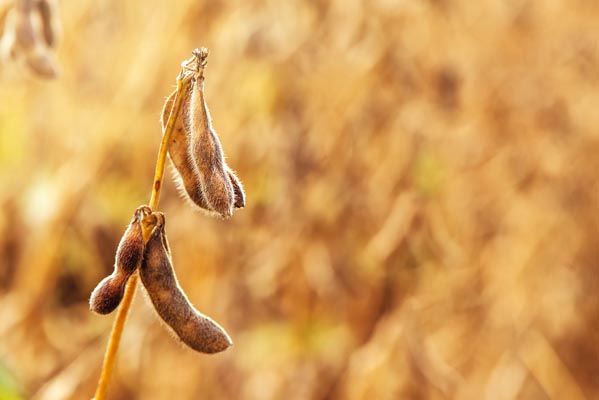 GM campaigners in the UK are celebrating some good news this week as supermarket Waitrose has announced that it will begin to move its pork supply away from GM feed.
The supermarket currently uses responsibly-sourced (but not guaranteed to be GMO-free) feed from Brazil.
Its new supply of soya will be sourced from the Danube Region of Central and Eastern Europe for use by its dedicated pork supplier, Dalehead Foods.
Dalehead says it has recently taken its first delivery of the European soya.
Waitrose, which has been keen to reduce its reliance on Brazilian soya, has worked closely with the Danube Soya Producers Association (Donau Soja), a group made up of European soya growers, millers and end users. The retailer sees the change as a first step towards opening up a traceable and sustainable animal feed supply chain in Europe.
Managing Director Rob Collins says the move "…fits perfectly into our strategy to improve our supply chain security by sourcing animal feed from raw materials grown at home or within the UK and Europe."
Indeed Waitrose sees this latest development as part of a longer term strategy to source livestock feed raw materials closer to the UK. In the ruminant supply chain (beef, lamb and dairy) suppliers are using clovers and other forage proteins to replace imported soya. With monogastric livestock (such as pigs, chickens and duck), soya alternatives such as faba beans are being trialled as a long-term soya replacement.
Good news, but far to go
Waitrose is generally known for its commitment to quality and in its 2016 scorecard on the use of responsibly sourced soya in supply chains, the World Wildlife Fund (WWF) gave the supermarket a top score, saying the retailer was well on the way to using 100% sustainable soya by 2020.
While some news stories have described the move as a tipping point and compared the decision to source EU-grown soya as being on a par with the 1999 move by UK supermarkets to take GMO food off the shelves, this is an exaggeration.
It is worth remembering that although its sales are growing, Waitrose holds just 5.3% of the UK grocery market. The big 3, Tesco Sainsbury's and ASDA, together hold around 55% of the total market, and as yet there is no move from them on GM-fed animal products.
In truth, Waitrose has weighed its options and even if the price of the EU soya might currently be higher than Brazilian soya, it undoubtedly sees the move as a good fit in term of its place in the high value ethical grocery market.
But the price differential between Brazilian soya and EU soya means that we are unlikely to see the same domino effect of the late 1990s happening throughout UK supermarkets any time soon.
Getting the context right
Gains like this are important and we must continue to push for them. But if we want a truly sustainable food system – not just the eradication of GMOs, but to move beyond the GMO/industrial farming model – then inevitably we need to look at such gains in context.
Waitrose may well be responding, in part, to customer preference and/or campaigner pressure. But in a wider sense it is responding to a years-long push to reduce the EU's dependence on imported soya. This is largely driven by a need to increase profit and reduce risk in a volatile world.
In this respect it's worth asking whether, given the UK supermarket's commitment to a more sustainable feed supply, it shouldn't be making sourcing UK grown feedstuffs even more of a priority.
Soya – a problematical crop
Soybeans are a cornerstone of the industrial food system. They are used as animal feed but also as a source of ingredients such as soya protein, soybean oil and soya lecithin in processed foods. They are also used in the dubious production of biofuels.
In spite of the fact that meat production is one of the biggest contributors to global climate change, global demand for meat continues to increase. That increase can only be met through the expansion of industrial livestock operations, which apart from being filthy and cruel, also have a heavy dependence on high protein animal feed.
For pigs this usually means a mix of maize, wheat, fish meal, and sunflower meal, but most of all high protein soybean meal. To meet the demands of industrial meat operations means more near-monoculture crops like soya, more external inputs of pesticides and fuel, increasing mechanisation and the consolidation of ownership.
We're not likely to see the vast fields of soya that the US has – the European climate and land is not necessarily suitable for that.
So, yes, we can bring more soya production closer to home. Danube Soya, which aims to promote the cultivation of sustainable, non-GMO soya in Europe, seems sincere in its efforts to create a sustainable supply of soya. Making this work also helps keep GMOs out of the EU farming system.
But focussing on soya to the exclusion of all else is problematic. Even if it is not GM, if this soya is going to industrial livestock production, it's more of a tweak than a system change.
Real lasting progress will be made when the production model changes to one of greater diversity: different kinds of proteins (peas, lupins, faba beans etc), mixed farming and a diversity in cropping, but also changes in how animals are fed and how they are kept.
When all this comes together then we can genuinely start waiving our big celebration flags.