Listening to the voices of the future
April 4, 2016 by Pat Thomas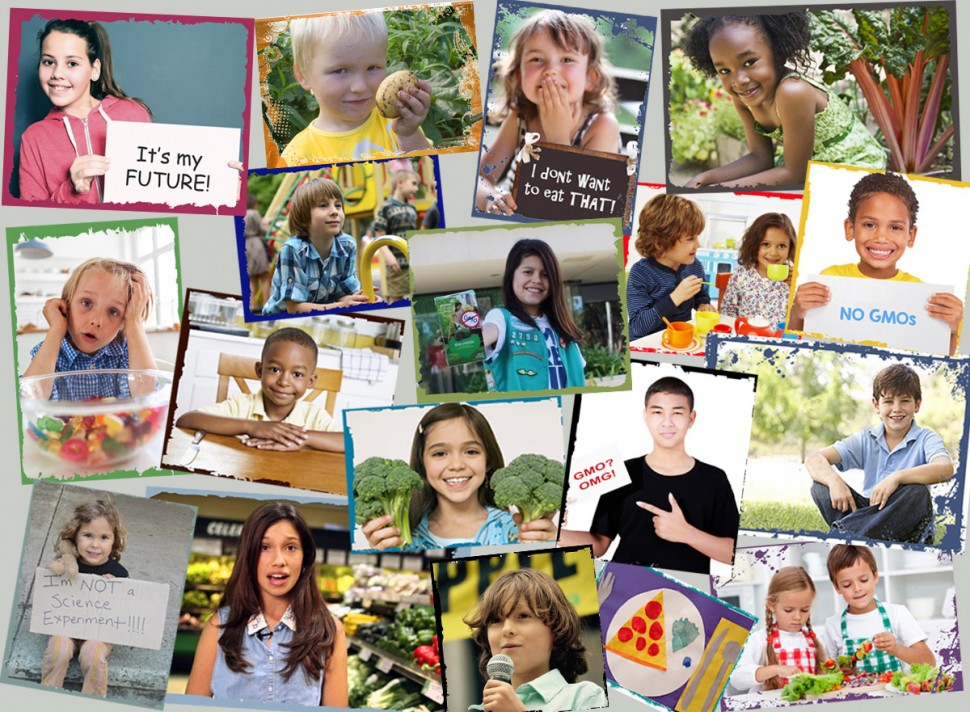 Today we launch a new project that gives kids a chance to join in the GMO debate.
Our Food Our Future is asking kids in the Americas to send in videos of themselves talking about GMOs, pesticides, health, safety and other important issues in the ongoing food debate, so that kids in the EU can better understand what it's like to live in a nation where 80% of the food in the supermarkets contains GMOs.
What our Letter from America project did for the grown-up conversation we hope this will do for the emerging discussions that kids are having.
Anyone who wonders what kids could possibly have to contribute to the debate, and why we should be listening to them anyway, simply hasn't been paying attention.
A unique point of view
The current generation of young people in the Americas is unique because they have never known a food system without GMOs and this has, intentionally or otherwise, turned them into a huge uncontrolled experiment in food and health.
In the same way that climate change issues have exposed our willingness to bargain away our future for short-term gains today, GMOs have exposed the future risks we're willing to take with our health and well-being as well as our environment. As a species we can't thrive or survive without good, clean, healthy food and the biggest risks we are currently taking are with the health and well-being of our children.
And since it's their future, we think they ought to have a say in it.
It's far too easy to dismiss the views of children and young people as being unformed and/or uninformed. My own experience as a child, and as a parent, tells me this simply isn't so.
From a very early age most of us have a good sense of right and wrong. Our natural curiosity about the world is at its peak in childhood, as are our dreams for the future. We absorb what parents and family say around us, both directly and indirectly, and that shapes who we become as adults.
For that reason when our politicians and policymakers ignore the views of parents, they are also ignoring the views of the future citizens who are in their charge.
Activism begins at home
My personal experience of activism began in my native California, more years ago then I care remember, when I was a Brownie. When I found out the Brownies were not allowed to go on overnight camping trips I started a petition within the troop to change what I saw as a very unfair rule. For this reason I have a special place in my heart for young campaigner Alicia Serratos who also started a petition to get the Brownies to remove GMOs from their cookies.
In elementary school I staged a sit-in the cafeteria protesting the quality of the food we were being served (a portent of things to come). A year later I helped organise a small delegation to the Principal's office in protest of the school rule which forbade girls to wear trousers to school – even on sports days.
I didn't come from a particularly 'new-age' or 'hippy' or 'activist family'. But with two parents who became lawyers, the concepts of justice and fairness were never far from the core of family conversations. My father, in particular, was a lover of the great outdoors, and had a little patience with the corporate mind-set. My mother had a 'can-do' attitude that made her remarkably resourceful in the face of obstacles. All of this fed into the crucible that shaped my thinking and actions as an adult.
Our stories play out in the long term
From these experiences I learned a lot of important lessons; first and foremost that the results of campaigning are never guaranteed and rarely instantaneous.
It took the Girl Scouts a few years to start allowing younger girls in our troop on overnight camping trips. We gained some concessions in the cafeteria, but again the road to better school food was, and remains, a long one.
The trouser delegation resulted in the kind of 'heads-we-win-tails-you-lose' compromise that campaigners see all too often. The Principal conceded that girls could wear trousers to school on days when the temperature dipped below freezing – in southern California! But the march of equality couldn't be held back for long; a year later girls were allowed to wear trousers to school.
Mostly what I learned is that we have to speak up if we want things to change.
Looking to the future
Today's children face much more difficult challenges than these. This is perhaps best exemplified by the current landmark case in which 21 young people from across the United States filed a lawsuit against the federal government over its failure to act on climate change.
Alongside world-renowned climate scientist Dr. James Hansen, who is also acting on behalf of his granddaughter, these young people are asserting that, in causing climate change, the federal government has violated the youngest generation's constitutional rights to life, liberty and property, as well as failed to protect essential public trust resources.
The case, put together by Our Children's Trust, marks a turning point where children assert their rights to a better future. On April 8th, in an historic decision that has left the US government and fossil-fuel industry reeling, the children heard that they can now move forward to trial.
In the GMO world, teen activist Rachel Parent, founder of Kids Right to Know, has been fearless in confronting pro-GMO politicians and media in Canada.  At age 14 she challenged TV host Kevin O'Leary to a debate after he called GMO protesters "just stupid" and suggested on his show that they "stop eating" as a way to "get rid of them".
Her articulacy and grace under pressure, and clever use of social media, have shown that young people are a force to be reckoned with and give hope to others that they too can be heard.
Rachel has since gone on to a TEDx Toronto Talk and a high level meeting with Canada's former Health Minister, Rona Ambrose, and with Health Canada officials. She has so rattled the pro-GMO establishment that – as disturbing documents uncovered by US Right to Know have revealed – biotech companies and industry trade associations, have been strategising behind the scenes on how to counter her message.
Of course, the UK is not without its own outspoken teens.
One of our supporters, Mya-Rose Craig, who writes the successful Birdgirl Blog, is a young birder, conservationist and environmentalist who also cares about what she eats. Last year in a Beyond GM article in the run up to the UK general elections, she warned: "I will turn 18 years old on the day of the next election and will be voting for a politician who prioritises the health of their constituents and the environment above the financial gain of biotech companies."
Mya-Rose, is also a Bristol European Green Capital 2015 Ambassador and has also been listed, along with the singer songwriter George Ezra and actress Maisie Williams from Game of Thrones as one of Bristol's most influential young people.
She has made a video inviting other kids to take part in the Our Food Our Future project.
New values, new voices
It never fails to amaze me that policymakers and politicians, and indeed the pro-GMO lobby, consistently fail to understand that the adults who are questioning GMOs today, don't live isolated lives.
Not only are we part of the large and growing movement, both nationally and internationally, most of us have families. We have children, nieces and nephews, and grandchildren. Many of our questions around GMOs have to do with the potential effects on children and on the shape of the food system they will rely on and on the environment they are going to inhabit.
We ask these questions from the point of view of deeply held values and beliefs that encompass health, environment, sustainability, a sense of fairness and stewardship of future. Because the GMO issue, in particular, touches on all these things, it has become a touchstone issue, as well as the place where so many of us draw the line.
And because the (non-GMO) apple never falls far from the tree, these values are being carried forward in our children as well.
The young campaigners and environmentalists I have mentioned here have supportive parents and other adults behind them helping them to speak up. We hope that other supportive parents will encourage their children to speak up and help us create an international kids conversation on GMOs.
In doing so, we recognise that our children aren't simply our children. They are tomorrow's voters; they are tomorrow's business people and politicians, parents and policymakers – and of course they are also tomorrow's farmers, chefs and food innovators.
When we, as a society, hear the voices of our children questioning the need for, and the purpose and the safety of GMOs, we are hearing the voices of the future.
It's time to start listening.